Sharron has been very busy the last few months painting new buildings for her Christmas village.  I too enjoy painting, but my hand is none too steady and I end up getting too frustrated with detail work.  I can see in my head what I want, but can't seem to make it happen.  On a recent trip to Michael's though, I found this Santa ornament that looked like a good cross between 1 color easy and super detailed hard.
I've been trying to find some time to start and finally couldn't take it anymore yesterday.  During my lunch break, I digitally painted him.  :-D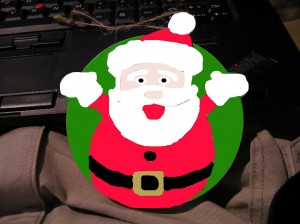 I can't decide if I should paint eyes on him or not.  He looks good both ways though.
Last night when we'd gotten all settled in, Sharron was working on a project in her office and that gave me a good opportunity to bust the paints out.  I started with the green background color.  I also painted the back of the "ball" he's perched on the same green color.  Most likely I'll have to do a second coat before I'm happy with it and then I'll move on to the red!  Wish me luck!