Several months ago I was asked if I'd be interested in being interviewed by a magazine called GI Jobs.  Not being shy, I figured, "why not?"  The magazine is geared towards military personnel who are getting ready to separate from the military and provides advice on what types of jobs are available.  They wanted to highlight me as someone who had applied their military skills in the business work place.  My article was posted in the June issue both online and in their print magazine.  Heck, I even made the cover!
A few weeks ago, I was contacted again by our internal PR team and was asked if I minded if they posted my story to the internal news page.  I again said ok.  This morning, I log into my computer and the first thing that comes up is this: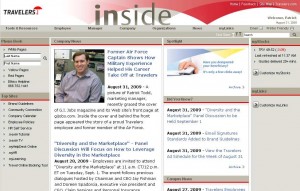 As you can see, my article was the TOP story on the internal news site today.  This page is only viewable by Travelers employees, but it is what EVERYONE in the company sees when they first log on.  It is nationwide.  I have received email about this from people all over the country.  Some I know and some I don't.  It has been an interesting day.